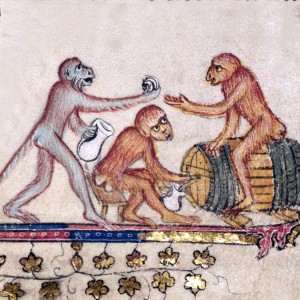 I've decided to close down my shop over at CafePress. I never made much money there even at the height of the store's popularity, only a couple of bucks a month, so it's no huge loss. Apparently, I overestimated the public's need for medieval monkey paraphernalia.
But fear not, those of you who still desire a coaster or a tee-shirt emblazoned with a medieval monkey (or the occasional non-monkey image).* I'm going to post a gallery below of all the images I ever designed** for the store, so if you still want to use one of my files, go wild. They're high-quality scans, many large enough to be used not just on on tee-shirts and coasters, but also on clocks, magnets, thongs, baby bibs, water bottles, and whatever other weird product CafePress is letting people put images on this week.
Also, because these files are rather large, you'll have to be patient if you're just clicking and browsing.
--
*

But who never ponied up for one at my outrageous 1 dollar markup. [↩]

**

Design usually meant 'cropped out of manuscript images from libraries', but I did have to do some color correcting and fixing of blemishes on occasion. [↩]