…or is it eleven months avant-garde?*
Check out "Traveling Group Of Medieval Mummers Is America's Top Pick For Holiday Entertainment" at the Onion News Network and let me know.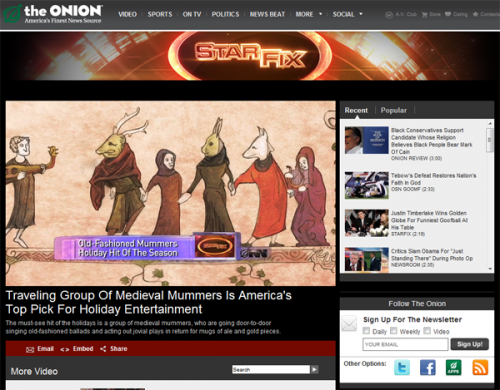 If I don't miss my guess, the screenshot there is a contemporary artist's representation of the Bodleian Alexander MS I use so often in my Mmm… Marginalia thing.** Small world.
[UPDATE BELOW!]

[UPDATE] I decided to check my hunch after posting, and it's a much clearer dupe than I thought.*** Behold the Onion's source: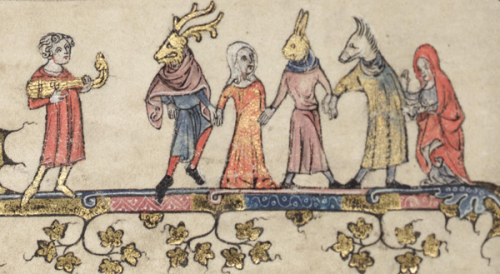 Not sure why they hired an artist to make a copy, though,**** since the Bodleian makes huge high-resolution scans of the manuscript available to all. Surely the Onion's clearance people consider works from 1344 to be in the public domain by now. Though maybe the Onion's got the inside track on SOPA/PIPA 2: Electric Boogaloo. Better safe than sorry suddenly booted off the Internet two years from now because you neglected to find out which media conglomerate gets to decide who is retroactively allowed to crack wise with the back catalog of Jehan de Grise's 14th-century manuscript workshop.*****
Actually, I say "surely", but I get email from media interns often enough regarding the rights status of manuscript images used here to know that nobody's sure what the rules are any more. That might even be part of the content holders' long con. Once the boundaries of copyright are sufficiently muddled, reasonable people will tend to err toward caution and preemptively self-censor.
Thanks to helpful reader "Flipsockgrrl",****** who sent the link to me on the fifth day of Christmas past.
--