The schedule for this year's Grand Medieval Hootenanny is out.  I get the feeling my talk will, once more, be poorly attended.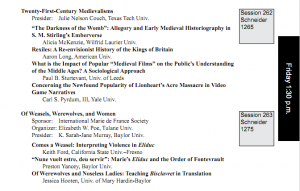 "Of Weasels, Werewolves, and Women"?  There's no competing with that.
Also, please, conference organizers, I beg you. Stop using the phrase "Twenty-First Century Medievalisms".  We're only ten years into the century.  It just seems a touch presumptuous.