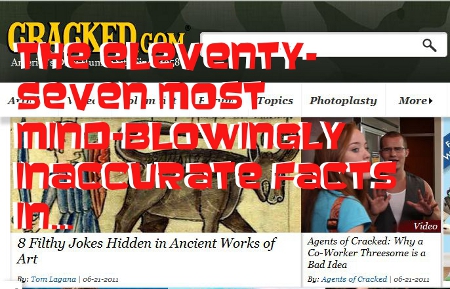 It has long been established, both by Supreme Court decision and by a robust body of supporting case law, that I own the patent on making jokes about the Middle Ages on the Internet,* so it came as quite a blow to discover my patent  had been recklessly and shamelessly violated by the editors of Cracked.com, who saw fit today to publish an article titled "8 Filthy Jokes Hidden in Ancient Works of Art", an article that allocates a full 3/8ths of its content to jokes about the Middle Ages.
To add insult to dire injury, while a full 8/8ths of said 3/8ths consists of topics already covered on this humble blog,** aforesaid said 3/8ths are riddled with inconsistencies and outright errors which cannot be excused merely by appeal to "comedic license".  So, once more, I find I must return to topics long ago discussed to set the newly bent record straight.
So let us begin with the one filthy joke that explicitly mentions that it was ripped from this blog its provenance, "#5. The Bayeux Tapestry."
Concerning the motives of the embroiderers who included a naked dude in the lower margin of the Bayeux Tapestry, the Cracked writer hypothesizes that they simply thought, "This son of a bitch is 70 meters long, who the hell is going to notice one tiny naked boner," which is clearly a grossly inaccurate reading of the tapestry's iconography.  Simply put, there's not just one tiny naked boner in the margin, there's at least three.  Voila:
And while Cracked might be excused for missing the naked erection-having guy in the upper margin over Harold's arrival in Rouen (Figure 1), the second tumescent naked guy is found immediately to the left of the naked guy the article points to and laughs at. So laugh it up, Cracked readers; your beloved Internet magazine is shorting you 2/3 of your hilarious medieval boners!
You might be wondering why you should care that there's three boners instead of one in the margins of the Bayeux Tapestry.  What do I think you are, some kind of boner-obsessed malcontent?  Mostly, you should care because it undermines the whole premise of the article at Cracked, that these filthy jokes are somehow hidden.  A medieval artist like the one who planned out the Tapestry and gave the patterns to all the embroiderers working on it expected that their audience would not only look at the margins and see the naked people, but that they'd also pause to think about what those naked people might mean in context.  The reason scholars care about the boner beneath the babe is that we're certain that the boner was being used to make a point, and we'd really like to know what that point might have been.
Also, while it's true that the caption over Ælfgyva says, "Here's a clerk and Ælfgyva," not "Here's a priest smacking a woman," I'm aware that there's this thing called–pardon the hyper-technical comedy insider language for a second–"claiming that a poor translation is a loose translation for comedic effect". I'm aware of it, because I made that joke in my post on Ælfgyva, too. But I'll still let it slide, as the article does cite me as "some scholars" right after that.***
Now, it doesn't take a scholar to find the sentence used to introduce one of the other "hidden filthy jokes" a little wonky:****
When we think of Medieval Italy, we think of what was arguably the cultural hub of the Middle Ages — the Birthplace of the Renaissance, Machiavelli, Dante and da Vinci.
To quote the learned comparative linguist Dr. Tanto, PhD, "who do you mean, 'we', Kemo Sabe?" When I think of medieval Italy, I rarely think of it as being the birthplace of Machiavelli or da Vinci (both born during the Renaissance in the Medici-controlled Republic of Florence). I also think of mostly a peninsula conquered alternately by Saracens, Normans, Byzantines, and Germans, not a cultural hub, but then that might just be my Anglo-Norman bias showing.
But periodization pedantry and semantics aside, Cracked is correct in asserting that "#8. The Medieval Dick Tree"***** is what it looks like.****** Those birds are totally black imperial eagles, though, the symbol of the Ghibellines, not crows, as the article suggests.
I do find it weird that someone looking for truly "filthy" jokes in medieval works of art would fail to notice the filthiest joke in the Massa Marittima mural.******* It's small, and the quality of the image I have available is bad, but through the magic of technology, I've enhanced it as best I can:
Either this medieval Italian lady is trying to hide a little something for later in the folds of her robe, or one of the penises is able to move under its own power and is surreptitiously sodomizing her. You be the judge.
It's also a little strange that the Cracked entry on the mural ends with a picture of Eadwine of York working as a scribe********, since whatever else they may have doodled in the margins of their scrolls, monks rarely painted murals. And no matter what you may have heard, scribes weren't the only medieval perverts.
Wait, why did I just say that medieval monks doodled on their scrolls? Their scrolls? Oh, yes, "#7. Medieval Monks Doodle Poop Jokes (and Worse) on their Scrolls". Hopefully this is a dick joke I don't get, because medieval monks wouldn't be caught dead with scrolls. Scrolls were so late antiquity. (As you may have heard.)
In order to illustrate their claim that medieval scrolls were oft be-doodled by perverted monks, Cracked offers nine images culled from medieval manuscripts, seven of which were featured here at one point or another in my Mmm… Marginalia series, one from BiblioOdyssey, and one from The Medieval Bestiary. Yet not a single one of the nine was found in a scroll, none are doodles, and I'm fairly certain that none were created by monks. So for those of you keeping score, that's 0 for 3 for Cracked nine times over.
But perhaps I haven't been entirely clear, so once more for the record. The images I feature here are usually taken from very expensive medieval manuscripts, the kind that would have been produced by professional manuscript production houses that employed dozens of scribes, editors, artists, and assorted craftspeople. When I show you a picture of a monkey with its finger up the butt of another monkey, or a monkey taking a dump in front of a bishop, or a monkey with a trumpet stuck up its ass, I'm not showing you something that a monk cleverly hid in a manuscript while his superiors weren't looking. On the contrary, I'm showing you something that someone was paid a large commission to produce, something that would have been kept with the exotic treasures in the vault of a medieval lord keen on showing off how fabulously wealthy they were. Think Justin Beiber's jewel-encrusted Stewie here.
A lot of the time, someone actually went to a commercial scriptorium, pointed at designs hanging on the wall and said something along the lines of, "We'd like sixty-five drolleries, please, and could you get Antonio to do one of his famous dicks-in-a-tree for the July calendar? We saw one he did for a psalter in Count Winchester's drawing room last month and the wife says we simply must get one of our own, and as you know, July is our anniversary."*********
One last bit of pedantic record straightening before I go. This picture from the Medieval Bestiary: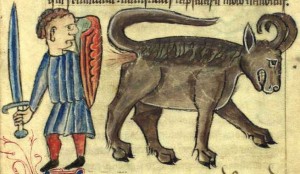 It's not, as Cracked would have you believe, a goat with explosive diarrhea. Rather, it's a Bonnacon, a beasty featured in medieval bestiaries that, because of its useless horns, evolved was intelligently designed to be able to fire its own excrement at its attackers, at a range of up to two acres. Also, the dung burns anything it touches. Flaming projectile shit is sixteen shades more awesome than diarrhea, people, so do try to keep it straight.
--