Welcome to June, and to the return of my monthly medieval calendar posts.*
According to medieval calendars, June is the month of Cancer, the crab, usually represented as the sort of weird lobster beast you might draw if you'd never seen a crab and only had one described to you years ago by someone else who'd also never seen one. Like so: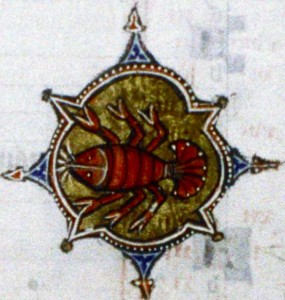 For the medieval doctor, Cancer was the sign that governed the upper chest, and thus the organs therein: heart, spleen, lungs, and the top of the stomach, as well as the ribs.  So if you have a hankering to drain some blood from the general area around your spleen, have at it this month.  But because Cancer is a watery sign, bloodletters get a rest when the moon moves through it; then it's phlegm that's the hip body fluid all the cool kids will be expelling.
Old and Middle English thunder-books warn that thunder heard in Cancer means "there shall be great hunger and butterflies shall destroy fruits"**
Unlucky days for June, according to the old Sarum Missal, are the 10th and 15th, so watch out! To quote F.C. Husenbeth's fanciful translation:
The tenth a palid visage shows,
No faith nor truce the fifteenth knows.***
The agricultural task for the month of June is scything, as I noted in this calendar post two years ago. But if scything isn't your thing, the Old French monthly rules recommend shearing your sheep instead.****
Famous medieval saints whose feasts are found in the month of June include Boniface, Barnabus, Alban, Anthony of Padua, and Margaret of Scotland. Peter and Paul share a feast, and John the Baptist's nativity gets one, too. For more on saintly matters, attend this pair of posts from last year.
--