Let's skip the whole "excuses for not posting more often" section of the post and jump right into what I know you want to see: cute cat pictures.*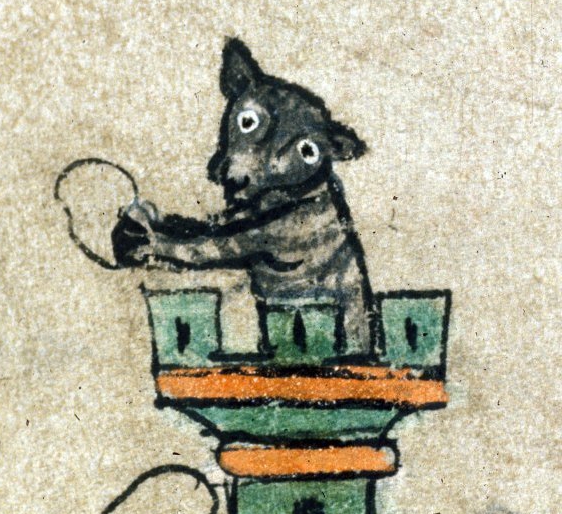 This cute kitty is found in one of the lower margins of British Library MS Harley 6563, a now-fragmentary early 14th-century book of hours probably made in London. And just what is such a cute grey and black striped kitty doing there in the margin?
Did you guess "playing cutely with a ball of yarn?"** I'm afraid it's rather more sinister. Poor kitty's engaged in a battle for his life:
 An army of mice has besieged our poor feline friend! And while it might look like he's about to get the upper hand here–he is throwing shot at them that's as twice as big as their cute little pitch-black evil mouse heads and all–there's a nasty surprise waiting for him across the spine of the book on the facing page: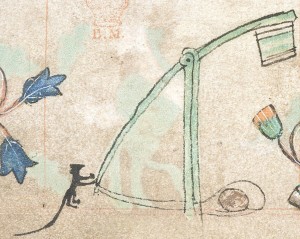 Mouse catapult attack! Poor widdle kitty cat. He will not has castle for long, I fear.
--
*

I mean, you're on the Internet, aren't you? If you didn't come here to see a cute cat picture, it's only because you just saw one somewhere else. And if that's the case, oops! But you'll forgive me, right? [↩]

**

I hope you did, because I purposely cropped the picture to give that impression, and if you're not going to play along why do I even bother? [↩]