We've spoken before about how awesome medieval bestiary lore is, but I fear I've given the impression that it's all self-castrating beavers and Christ signification.* It is both of those things, of course, but there's so much more! Seeing that today is the Feast of St. Valentine, I thought you all might be interested to learn that bestiaries have an awful lot to say** about love–well, one bestiary in particular does, at least, the aptly named Bestiaire d'Amour–that is, The Bestiary of Love.
Written in the first quarter of the 14th century, Richard Fournival's Bestiary of Love takes the form of a male lover's argument with his female counterpart in which he explains how the various important facts about animals apply equally well to people in love. It was a popular enough text that it survives (in part) in a fair number of manuscripts and spawned a couple continuations and even a Response written as if from the lady, disputing all those things her male counterpart said about the animals.*** The Bodleian has a particularly lovely copy (MS Douce 308), so let's peek between the pages and see what the animals have to teach us about love.
First up, there's my usual obsession, The Monkey.****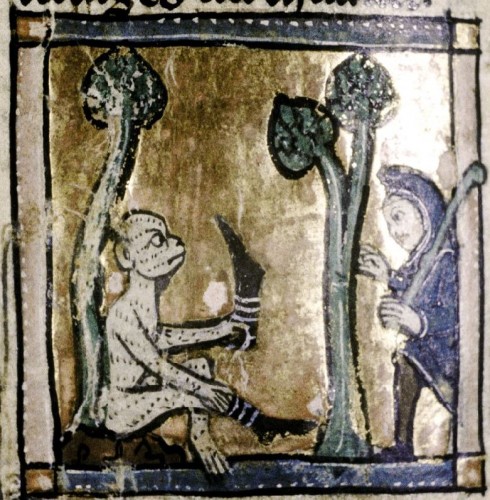 Naturalists as far back as Pliny the Elder***** were convinced that simians had a sartorial obsession. Leave clothes, boots in particular, out for them, and they'll try to wear them, with hilarious results. The Bestiaire d'Amour explains that just as the monkey can be caught by the hunter who leaves out shoes that he'll be compelled to try on, so "to love is to be clothed with love and imprisoned by it." Also, I suppose, love makes you wear your shoes on your hands. Your love shoes, I mean.
Uh… anyway, see how this works? An animal has a well-known quality, but so does the lover. As we hit the rest of the high points, see if you can't predict what the lover will learn from each animal.******
OK, pencils and buzzers ready? Let's start with an easy one. The Weasel:*******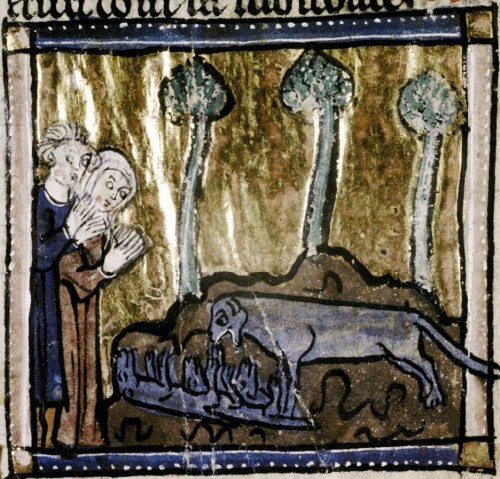 As we all know, the Weasel conceives through its ear and gives birth through its mouth.******** You did all know that, yes? Either way, from this, the lover should take warning. Women are like weasels–only with flattery (and not so much the baby-making). For after they have heard so much flattery that they should love the lover, women "turn and say quite different sorts of things." No matter how honeyed your words, your lady love is just going to vomit all over you and anyone who'll listen. Love vomit, I mean. I hope I mean, anyway… er… moving on.
What does the lover have to learn, I wonder, from The Weasel?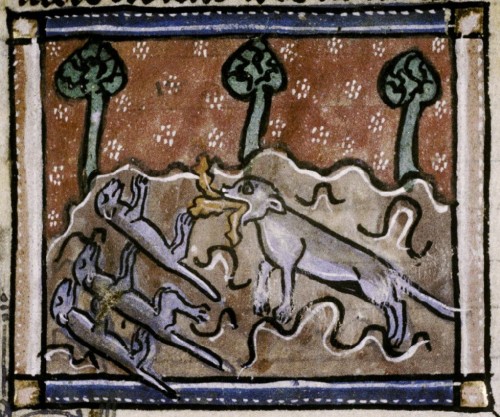 I know, didn't we just do that one? Well, turns out there's still more the lover can glean from the weasel, who you may be surprised to learn, gives birth to its children dead, but brings them back to life by vomiting fire upon them. Thus, the lover, "dead of love, knows that there is a medicine that will cure him, but he knows not what." Presumably he means the love of his lady, but maybe it's his lady's vomit. The text is obscure on this point.
OK, enough with weasels. Fancy something more exotic? How about The Crocodile?
Just as the crocodile "eats a man wherever it finds one, and then in repentance weeps and cries for the rest of its life," so too the lover's lady will kill and devour him with her love, unless she deigns love him back. He can only hope she has the good manners and moral sensibility of the crocodile, and will repent even if she does spurn him. (Hint-hint, ladies. You don't want the crocodiles to show you up, do you?)
If crocodiles aren't sufficiently impressive, consider instead what the lover has to learn from The Wyvern:*********
The Wyvern is a fearsome beast related to the dragon with a poisonous tail-stinger and rows of sharp teeth, but it has one weakness. It fears no man clothed, but the sight of a naked man will make it start away in fear, open-mouthed. "So is the lover at first naked and vulnerable from being in love, but later is clothed in his pride at being loved and gains courage from this."
Now, what do you think the lover might stand to learn from the Wild Ass?**********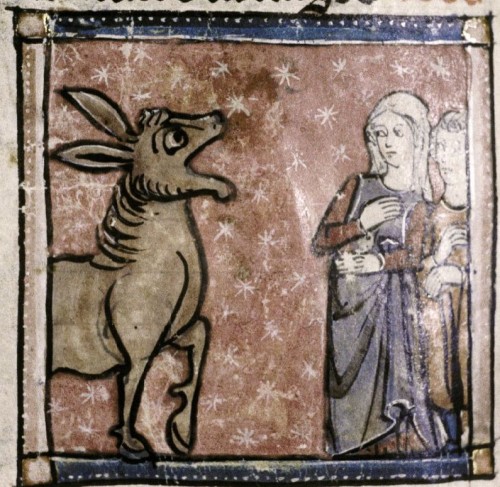 According to bestiary lore, the wild ass only brays when he wants his dinner, and as the Bestiary d'Amour explains, "so cries the lover when he has lost his love." Which works, I guess, because man is it grating when people go on and on about that girl with the hipster glasses and the nose ring who works behind the counter at Starbucks who totally was into them, and they were getting ready to make their move any second, if only she'd not scalded her hand on the Clover machine and–er, maybe I'm the only one that's happened to got friends like that.
Next up, we ask, what does the lover have to learn from The Cock?***********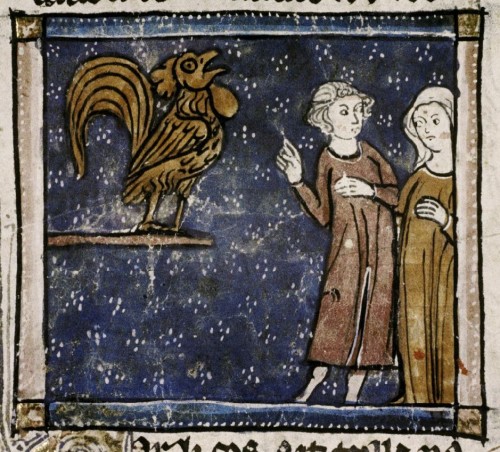 As the Bestiare d'Amour explains, the cock crows at dawn and dusk, which are times when day and night come together.************ This is like love, "which is neither all hope nor all despair."*************
Now, tally up your score, giving yourself one point for each correct prediction, deducting seventeen for each incorrect, and then tossing out the whole paper, because it's the bonus round now and all points are sextapajupled and then squared.************** What does the lover have to learn from The Wolf? Careful, there are three lessons ahead, and you need each to get credit: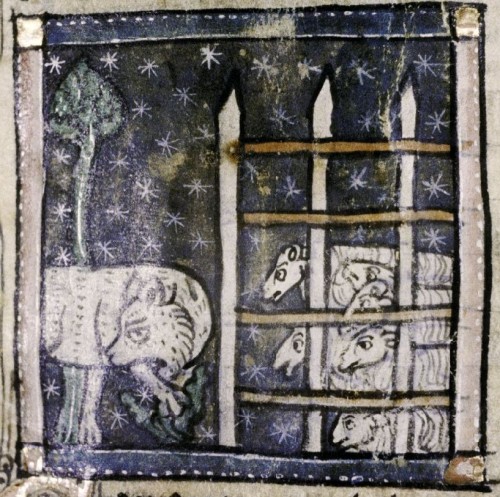 Three things about the wolf are relevant to the lover. The wolf is quiet as it stalks its prey, because if one of its feet accidentally snaps a twig and alerts the prey, the wolf bites it off.*************** Also, the wolf cannot turn its head without turning its whole body.**************** And finally, the wolf never catches food near its own den, knowing always to seek prey far from home.
From this, the lover should learn that the love of a woman is three-natured, like the wolf. Just as the wolf has head-turning problems, the Lady "cannot give herself, except completely." But if that sounds too good, remember that like the far-hunting wolf, "she loves most when her lover is far away and least when he is near." And of her words, which sometimes "run ahead of her and thereby her lover knows he is loved in return" know this: caught, like the twig-snapping wolf, the lady "tries to conceal what she has revealed, using other words."
Hope this is helpful tonight, as you're all out wooing ladies with chocolate and flowers and suchlike. Remember, women are all gossiping, lying traitors who will vomit fire on you just as soon as look at you. Your only hope is to avoid their offer of fancy boots and strip naked. Only then will you have them in your power. Then, quickly, sing to them like an ass or a cock, because they can't turn their heads without turning their whole bodies.
Happy Valentines, all!
--